Dog Safety At The Lake
Posted by Lainey Jones on Tuesday, October 13, 2020 at 10:00 AM
By Lainey Jones / October 13, 2020
Comment
Let's be honest, our pets are just an extension of our family. They live with us, they sleep with us, they eat with us, and they play with us. If you are going out on the lake and taking your dog with you make sure to follow these tips for keeping your pup safe.
Get a life jacket. There are a variety of life jackets you can purchase for you dog .
Don't assume your dog can swim (or wants to). Many dogs are not anatomically designed for water and some dogs just don't like the water or swimming.
Don't let them drink the water. Outdoor water sources can have parasites or toxic chemicals. Be sure to bring clean fresh water for your dog to drink and don't let them drink lake or pond water.
Don't forget ID. On any outdoor excursion, a microchip can be your pet's best chance of being reunited with you if they get lost.
Supervise them. Never take your eyes off your dog when they're in the water.
Take a course. You can take a pet CPR course from the American Red Cross and it's always a good idea to take a pet first aid course whether you will be taking your dog to the lake or not.
Teach your dog to get on and off the boat. If your dog is too big to carry on and off the boat you may need to invest in a pet-friendly boarding ramp.
Teach your dog to settle in a designated spot. Teaching your dog how to settle in a specific spot on the boat will help keep them safe while underway.
Take some food and treats. No matter how long you plan to be out take some extra food, treats, and fresh water just in case. You never know what could happen.
Non-slip mat. Boats with fiberglass decks can be slippery for paws. Help them feel more stable by bringing along a non-skid mat.
Potty Time on the Boat. Sometimes there is no good place to take your dog potty while on a boat. Be sure to take plenty of paper towels, poop bags, and cleaner. If you plan on being on the boat a long time you can take pee pads or a patch of artificial turf.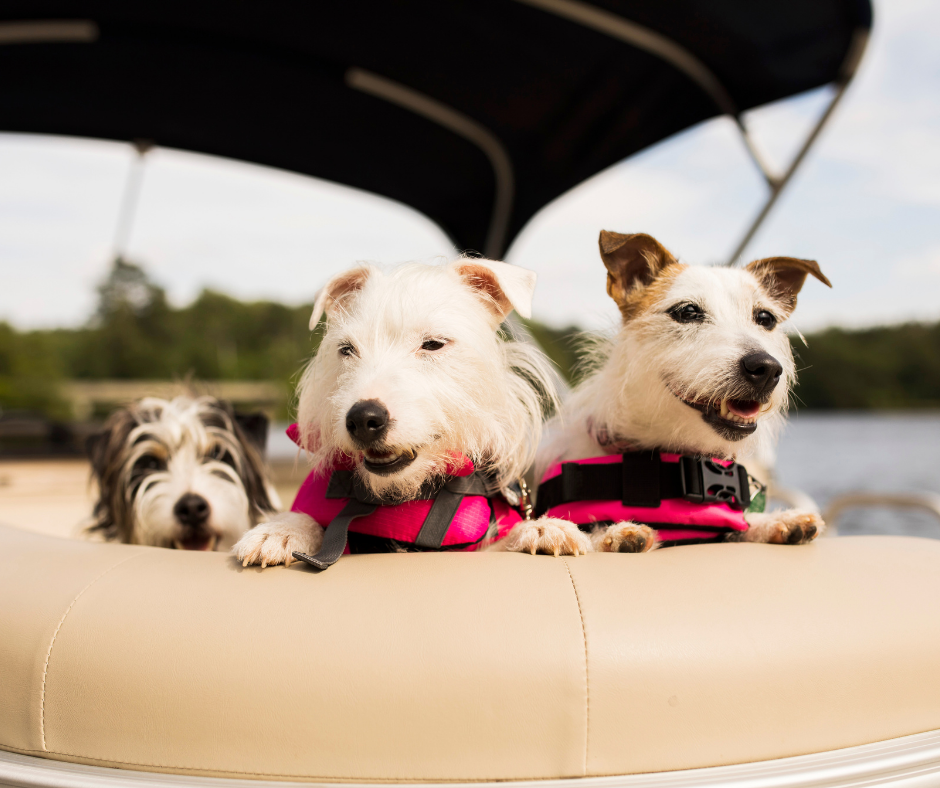 Check Out Our Other Dog Blogs